Dallas Price-Van Breda: Supporting Young Artists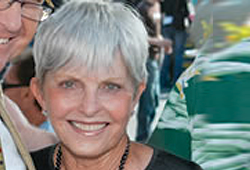 Dallas Price-Van Breda defines the phrase "Renaissance woman." An expert climber, she has scaled the "Seven Summits," the highest mountains of each of the seven continents. She's also an instrument-rated pilot and former co-commissioner of basketball for the 1984 Olympic Games. One of her abiding passions remains art and the encouragement of young artists.

Dallas is a founder and board member of Los Angeles Museum of Contemporary Art and co-founder of Oaks Christian School in Westlake Village, where works of art from her personal collection are on view. She is a member of the Board of Visitors of the UCLA School of the Arts and Architecture, where she established the Dallas Price Endowed Fund for Art to support innovative projects in the Department of Art. In addition to these generous commitments, she has included UCLA Arts in her estate plans.

"I grew up in a home with limited funds," Dallas explains. "I know what it's like to try to realize your aspirations without money or resources. Today it's especially difficult for students to pursue a talent in art, and for a university to support that pursuit. I hope my gift will help make it possible for UCLA's art students to fulfill their career hopes."

Dallas is a past member of the UCLA Foundation Board of Directors and has served on Campaign UCLA's Cabinet, Board of Governors, and Board of Directors.