Connie & George Keiter: Giving of Themselves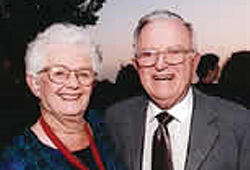 Decades ago, Connie and George Keiter took their three children - Lee, Kenneth and Kathy - on neighborhood walks to collect funds for the American Cancer Society. Inspired to do more, George later led a campaign for its Los Angeles County chapter, raising $2 million in one year.
Their continuing commitment is exemplified by the couple's decision to donate their home (a high-rise condominium near campus) to the University through the UCLA Foundation's Office of Gift Planning. Under this arrangement, funds will one day support UCLA's Jonsson Comprehensive Cancer Center, where Connie has been an active volunteer and fundraiser. Other beneficiaries are the Braille Institute of America and Seattle YMCA.
The gift plan, called a "retained life estate," enables the Keiters to receive an income tax charitable deduction while continuing to live in their home for the rest of their lives. Upon termination of the life estate, the UCLA Foundation will use the sale proceeds as designated by the Keiters.
Their philanthropy touches other parts of the UCLA campus. In honor of Connie's father, renowned Los Angeles architect S. Charles Lee, the Keiters have endowed the S. Charles Lee Chair in Architecture and Urban Planning. In addition, they donated his architectural drawings to the UCLA Library.
"Connie and I are thankful that UCLA will benefit from the eventual sale of our home," says George, who serves on the UCLA Foundation's Planned Giving Committee.