Making Gifts from the Heart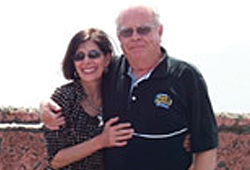 Bill Snelling and Phyllis Momtazee-Snelling each have their separate stories, but they are happiest when they are off on adventures together. They got married, for example, at the Santa Mario Rodeo. They are actively involved at Vandenberg Air Force Base as community leaders, where Bill serves on the Commander's Group for Air Force Space Command. They help the local community in Costa Rica, where they have a home. Avid Bruin sports fans, they often travel to cheer for the basketball and football teams. And they support their passions at UCLA, where their connections run deep.

Bill, a proud alumnus, earned a business degree from the University in 1957 and an EMBA in 1992. His UCLA education served as the basis for "many different ventures in the Los Angeles business world," he says, including several financial enterprises and launching a successful satellite communications company. After moving to Santa Maria, he established the Bank of Santa Maria, which later pooled with Mid-State Bank and Trust. He served on the Board of Directors of Mid-State Bank from 1998 to 2005 and chaired the Audit Committee from 2003-2005. Currently, he is a partner with ITT in Spaceport Systems International, a launch and processing facility at Vandenberg Air Force Base.

Phyllis Momtazee earned a law degree from Washington University Law School in St. Louis and began a career in planned giving. After taking time off to raise her five children, she returned to fund raising at Cal Poly San Luis Obispo in 1998 and a banker named Bill Snelling was identified as a prospective donor. She called him - and they were married three years later.

Independent of her new husband, Phyllis had her own strong ties to UCLA. Her daughter Jennifer was a Bruin alumna, class of 1998 whose degree unfortunately had to be awarded posthumously. A senior majoring in sociology, Jennifer died unexpectedly in November 1997, just months from graduation. "She had dreamed of doing graduate work in film and never got to fulfill her dream," says Phyllis, "so I made a gift to UCLA that would help other students to fulfill theirs." In 2000, she established a charitable trust at the School of Theater, Film and Television that will ultimately create the Jennifer Momtazee Memorial Prize, providing ongoing essential support to deserving students.

When we make a gift, it's from the heart," she declares. In April 2006, another life-changing event prompted Bill's philanthropy to an entirely different area of campus. Bill suffered a sudden stroke.

As a result of this event, Bill began thinking about how he might show his gratitude and also help others. When Mid-State Bank and Trust was purchased by Rabobank, NA, of the Netherlands, Bill saw an opportunity to make a major impact by donating a meaningful part of his capital gain to establish the William Snelling Endowed Chair in Cerebrovascular Disease. "UCLA has a stellar medical enterprise," says Bill. "It's a life-saving community. I believe the more people who invest in medical research, the better it will be for all of us."

Both the Snellings' gifts were made through charitable remainder unitrusts, which will provide the couple regular distributions for their lifetimes. Bill explains, "Giving to something you believe in is a more productive use of funds than giving to the government in taxes, and it also helps your anticipated cash flow when you get a percentage back from the University." Phyllis likens it to "an annuity that guarantees your income for life."

Being married to Bill has really broadened my horizons," Phyllis says. "I'm more cautious by nature, but his adventurous spirit has afforded us some wonderful experiences. Never did I think I'd ever find myself at a rodeo at all, much less be married at one. That was Bill's idea, and it was terrific!"