Jeannette Moore: Transforming Diversity at UCLA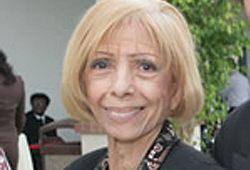 Jeannette Moore was inspired by her late daughter, Roxanne, and by the students who will benefit when she established the Roxanne Chisholm and Jeannette Chisholm Moore Endowed Scholarship Fund in UCLA's Ralph J. Bunche Center for African American Studies. "I did this to help Bunche Center students achieve their goals in life," she says. "They are so deserving of scholarships for their achievements."

The Bunche Center, a prominent research "think tank" for African American culture and history, was named for the Nobel Peace Prize Laureate, a UCLA alumnus celebrated worldwide for his contributions to humanity.

The Center is nationally renowned for its research on all aspects of the African American experience. As a retired educator, Jeannette also was impressed with the curricular aspects of the Center's work, such as its sponsorship of a joint master's degree and J.D. program in African American Studies and Law. In fact, she was so impressed she even volunteers at the Center.

According to Professor Darnell Hunt, director of the Bunche Center, Jeannette's gift will help address the critical need to boost African American enrollment at UCLA. "These students can go anywhere in the country, and many universities can offer them large, very attractive scholarship incentives," he explains. "Her commitment is foundational in that it sets the standard. If we can get others to follow Ms. Moore's lead, we can truly transform diversity at UCLA."