Jody Chapman: Pioneer & Supporter of Women's Sports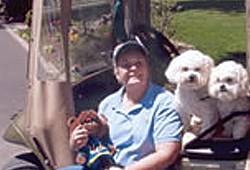 In a time when competitive sports were only beginning to open up to women, Josephine A. (Jody) Chapman '58, MA '59 was a pioneer. She earned her bachelor's and master's degrees in physical education at UCLA, as well as her teaching credential. "I loved every minute of the time I spent there," recalls Jody.

She went on to teach and coach at Los Angeles Harbor College, heading up their women's basketball, volleyball, gymnastics and track teams. "Women were still new to the field, and we struggled to find funding ? even to get gym space."

The struggle was worth it, she adds, because "athletic competition gives women a sense of freedom, self-worth and empowerment they might not get in other arenas."

Today, Jody is among the leading supporters of UCLA's athletics programs for women. She recently added a significant gift to the charitable remainder unitrust she established in 1996 to benefit women's athletics. "The unitrust gives me an income through my retirement years," says Jody, who now lives in Bend, Oregon. "Eventually it will help young women have a great experience at UCLA, just like I had."

Jody is leveraging her unitrust with additional funds to maximize her support to UCLA's athletes across 12 women's intercollegiate sports teams. "One of the wonderful things about UCLA's program for women is its broad spectrum of athletic opportunities. I want to see that continued."