Dina & Louis Sneh: Encouraging Medical Research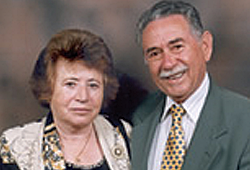 When Dina and Louis Sneh decided to support the pursuit of new medical knowledge, they knew exactly where to focus their philanthropy. Dr. Ulrich Batzdorf, Professor, Director of Spinal Neurosurgery, and a member of UCLA's Comprehensive Spine Center, has been Dina's doctor for more than 20 years. The couple credits him with rescuing Dina from terrible pain resulting from a spinal tumor. "We were grateful to Dr. Batzdorf and to everyone in the Division of Neurosurgery at UCLA," say the Snehs. "There was no question this was where we wanted to make a difference."

In Dr. Batzdorf, the Snehs found a world-class neurosurgeon and researcher in spinal cord tumors. "A gift to advance his work and the work of physicians like him was the right thing to do," says the Santa Monica couple.

The Snehs made their commitment through a gift planning arrangement known as a charitable gift annuity. In addition to an annual, fixed, lifetime income, they also enjoyed an immediate income tax charitable deduction.

The Snehs are quick to point out that these financial advantages pale in comparison to knowing they are helping to advance important research in spinal neurosurgery. "We want to help others the way Dr. Batzdorf helped us," Dina says. Louis adds, "UCLA medicine is an important resource for our community. We want to support that, and encourage others to support it as well."