Preserving Music that Bridges Time and Space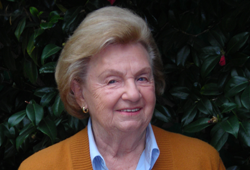 "I met Walter at a party," Yvonne Jurmann remembers fondly,"he was playing songs on the piano, and I went up to him and told him, ""you're playing all the music I like!""The charming and elegant man Yvonne met that day,and who later became her husband, was Walter Jurmann, the composer behind many famous songsduring the turbulent 20s and 30s in Europe, and in the U.S.




Almost from his birth in 1903, Walter Jurmann seemed destined for a musical career - by his teens, he was already an accomplished pianist. Moving to Weimar-era Berlin in the 1920s, Jurmann composed a series of hits. At the advent of film's sound era in 1929, his successful career as a film composer for a string of popular, light-hearted movies stood in stark contrast to the rising dark cloud of Nazism. Like many artists, Jurmann left Germany in the 1930s, making his way first to Paris and then to Hollywood and with a long-term contract from MGM after he caught the artistic eye of Louis B. Mayer.

In Hollywood, Jurmann made his mark composing for a wide variety of pictures: From exotic European-style comedies featuring,among others, the sentimental You're All I Need written for the film Escapade (this melody remained on the music charts for nine weeks) to the zaniness of the Marx Brothers' film A Night at the Opera,for which he composed the Italianate standard CosiCosa(click here to listen to an excerpt sung by Mario Lanza), to the dramatic pictures like Mutiny on the Bounty, starring Clark Gable, in which he evoked the tropics with Love Song of Tahiti(click here to listen to an excerpt sung by Max Raabe).

By the late 1930s, however, film music had changed, becoming more integrated with the increasingly action-packed pictures instead of relying on stand-alone songs. Jurmann left MGM when his contract came up for renewal in 1941 and returned to independent composing. After a short stint of military service during World War II and a subsequent turn as a USO performer, Jurmann spent his later career creating more standards for a variety of stars, including Judy Garland, Kathryn Grayson, Marta Eggerth, and Deanna Durbin.




Among his significant cultural accomplishments were the starkly American compositions San Francisco, written for a 1936 film of the same name (click here to listen to an excerpt sung by Judy Garland) and San Antonio (written in 1968), the latter to commemorate a trip to the Texas city. Both subsequently became these cities' official songs. Jurmann died unexpectedly of a heart attack during a trip with his wife to her hometown of Budapest in 1971.

"After Walter died, I had to start a new life on my own. I went to a UCLA function with a friend of mine and there we met Professor Thomas Harmon and other faculty members who thought Walter was a very important composer and asked me if I could share Walter's papers and compositions so they could be collected and added to the music library. This became the very first collection of American popular music to be established at the library, and I am particularly happy about this."




It is with that intense dedication to the preservation and sharing of her husband's music that Yvonne Jurmann decided to establish a bequest gift to fund a Walter Jurmann Endowment at UCLA's Department of Music, fulfilling one of Jurmann's own mottoes, "a composer lives on through his music."

The endowment will provide stipends to faculty and students to honor the work of Jurmann, introducing his timeless music to new generations of musicians and audiences, and provide scholarships and fellowships for vocal students who win the Walter Jurmann Award through the annual Walter Jurmann competition. It will also support collaborative activities between UCLA and the Walter Jurmann's Societies in Berlin and Vienna.

"Walter believed that his music would survive on its own merit and hoped that his music would 'always bring joy to people in all walks of life,'" Yvonne explained. "The gift I made to UCLA is to introduce his music to young people. Walter was very interested in talented young people. He liked to encourage them to work hard to become successful and achieve their dreams, and this gift very much matches his spirit." To learn more about Walter Jurmann's life and listen to more of his music, click here.